by B.J. Porter (Contributing Editor)
Tucked up near Canada on the northwest corner of the lower forty-eight states, the San Juan Islands are a delightful archipelago with some of the most stunning cruising grounds in the U.S.. This cluster of over 100 named islands (and several hundred other unnamed rocks and islets) is a popular vacation destination for viewing wildlife, kayaking and paddling, camping, hiking, fishing, and other relaxing outdoors activities.
With a sailboat and a little breeze, you can get anywhere in the island chain in a day or two, and there are many small, sheltered anchorages and harbors dotted with state moorings for boats up to forty-five feet. As you sail through, you will probably see seals, porpoises, and countless seabirds. With a little like you might spy a pod of orcas, humpbacks, minke, or other whales.
Island Geography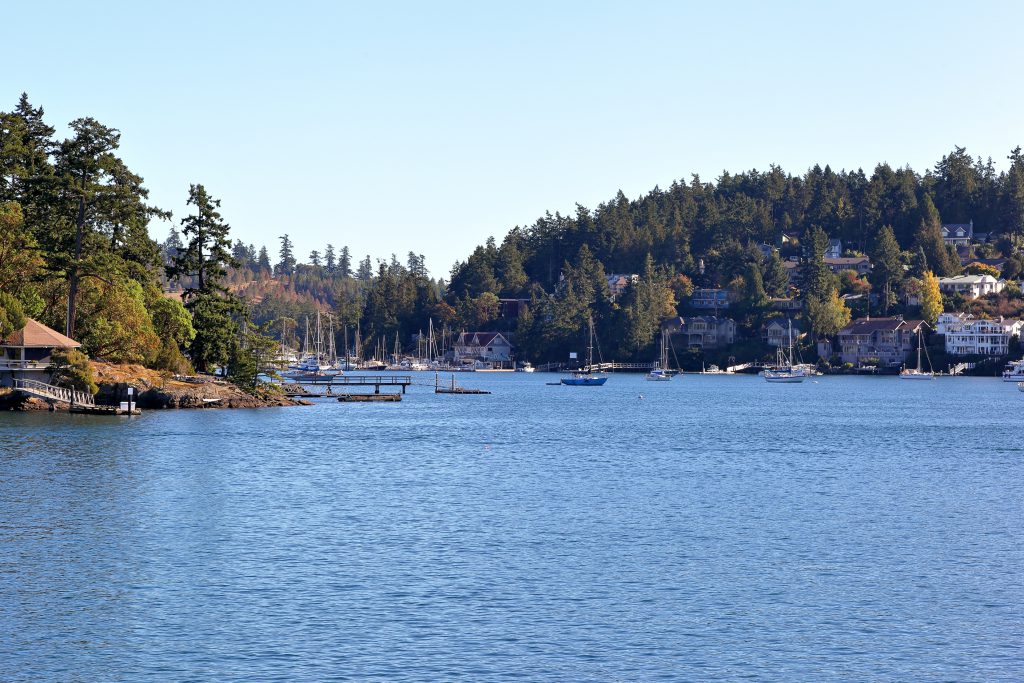 The archipelago lies in the Salish Sea and is bounded by the Strait of Juan de Fuca to the South, Rosario Strait to the east, Haro Strait to the west, and Boundary Pass to the north. To the west of the San Juan islands lies Vancouver island and Canada. Throughout the islands, you've got fantastic views of the surrounding mountains.
The islands are all hill, steep and wooded, keeping with the submerged mountain ranges that comprise them.
Between the islands, the waters are cold and deep, and the currents can be swift. While there are many places you can anchor, the state of Washington park system has set up a network of parks with mooring buoys and docks throughout the islands to keep it easier and safer for visiting sailors.
The four largest islands – Orcas, Shaw, San Juan, and Lopez, also have the largest populations. Friday Harbor on San Juan Island is the largest town and the county center. All four islands are on the Washington ferry system, but you've got to find your own way to the others by boat.
The larger islands
Lopez Island is a favorite for biking and walking, with pastoral farmlands, woods, and long beaches. It's fifteen miles long, and home to 2,500 permanent residents, as well as many rental houses, lodges, inns, and campgrounds. Moorings are available for boats up to forty-five feet at Spencer Spit State Park and at Odin County park on a first-come basis.
Orcas Island is the largest island in the chain with miles of hiking trails and hilly woods to explore, and stunning views from some of the highest points in the islands. The island is shaped like a horseshoe, with several villages scattered around. The largest is Eastsound, at the top of East Sound, at the thinnest point in the island between the two arms. There are several marinas with space for transients, and nice anchorages in West and East sounds.
San Juan Island has the largest population, and the town of Friday Harbor is a good jumping off point for whale and seal watching tours, and is host to many cultural events and a large marina. You can rent bikes to rout the island, or stop in for a drink or a delightful meal.
If you need something for your boat and you don't want to head towards the mainland, Friday Harbor is a good place to look. Lime Kiln Point State Park on the west side is one of the best places to view orcas, and many of the tour boats head there to watch from the water.
Shaw Island is the smallest of the ferry linked islands and has a population of only 165. There's a small grocery and county campground, but it is the quietest of the four, where you'll spend most of your time with nature walks and enjoying the scenery.
Smaller islands
The smaller unpopulated islands are popular destinations for brief stays. Washington state maintains parks with moorings, docks, maintained trails, and campgrounds on about a dozen islands. Some of the more popular include Sucia, Clark, and Stuart islands. Many have multiple harbors with first-come moorings, and if you find a suitable spot, you can anchor. Though mind the current.
Many smaller islands aren't as accessible and may be private, so be certain where you're landing before you jump in the dinghy.
What to See and Do
Although you'll find a smattering of bars, pubs, and restaurants on the population centers throughout the islands, outdoor activities and relaxation are the real highlights of the San Juan Islands. There's plenty to see and do, but the nightlife is more racoons, foxes, and bats than dance clubs.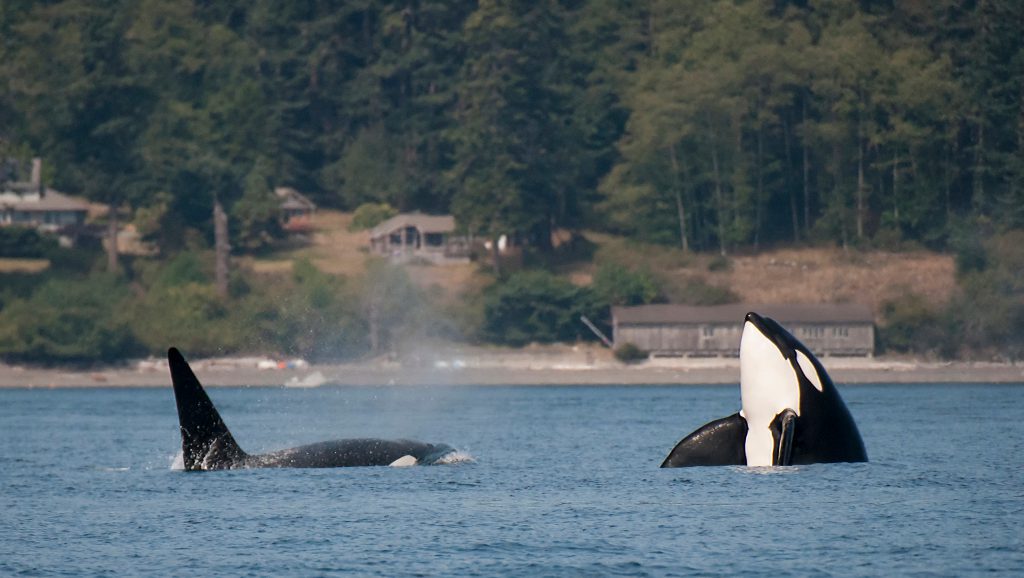 Wildlife watching
The San Juan Islands have one of the largest concentrations of bald eagles in the U.S., and the odds are very good you'll see one. Maybe every day. A wide variety of the terrestrial and aquatic birds frequent the islands, so keep the binoculars handy.
Marine mammals are the showcase stars of the islands, with three resident pods of orca whales prowling the waters for salmon, while other groups pass through on their migrations. Several other species of great whales make seasonal visits, so you may see something any time in the summer. While you sit at anchor or sail between islands you may also see harbor seals, Steller's sea lions, Dall's porpoises and otters.
Hiking, camping, fishing and outdoor activities
Sixteen state parks and a national monument spread over dozens of islands offer miles of trails and many things to see and do, with hikes ranging from easy day walks to challenging, steep treks up small mountains. For those who want to camp ashore, most of the state parks have sites.
Away from cities and light, the skies are dark for excellent stargazing.
Museums, events and sights
The more populated islands have events throughout the season, from outdoor concerts and art shows to museums and historical societies. There's almost always something going on. Most events are low key and small, since the numbers of visitors aren't enormous and many events are geared for the local community instead of driving tourist traffic.
Food and Drink
You won't find chain restaurants, but if expertly prepared, locally sourced food and drink are your thing, then you will find some nice variety on the four big islands. Most restaurants and cafes feature regional wines and beers, with locally sourced produce and meats where possible. You'll find wineries, breweries and distilleries where you can explore some of the best local artisanal offerings.
Sailing and Navigating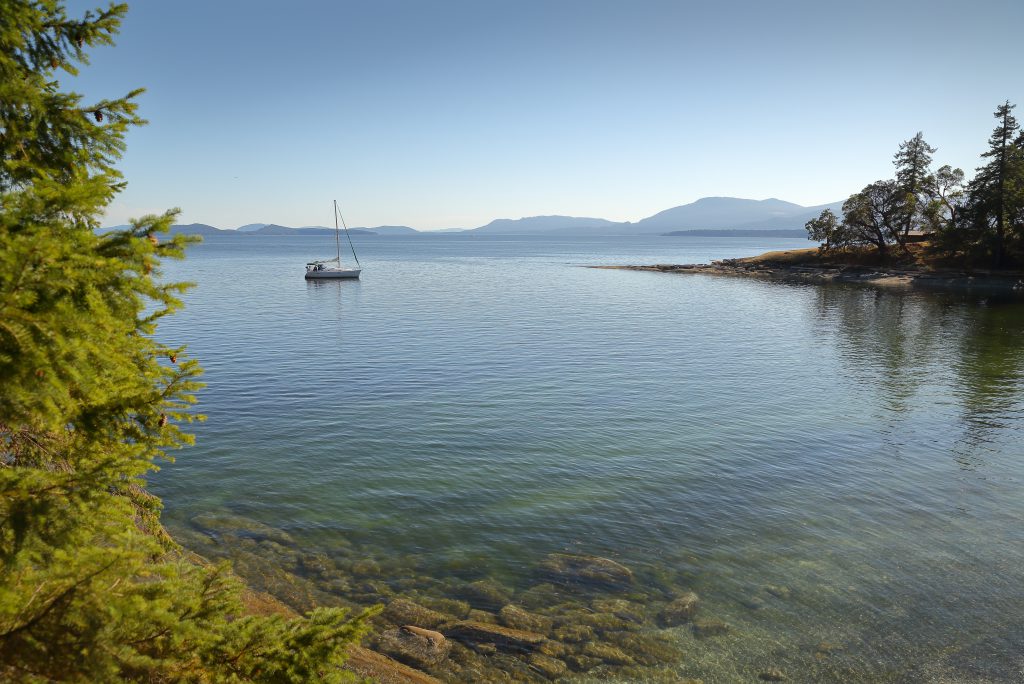 With so many islands in such a compact area, sailing times between anchorages isn't long. But it can be tricky, especially if you're not familiar with the area.
Summer winds can be light, but the currents through the straits and between the islands are strong year-round. On a light air day, you may have difficulty making headway into the teeth of a three knot current if you leave at the wrong time. But if you leave at the right time, that current can sweep you right to your destination.
The Waggoneer Cruising Guide offers good information on ports, anchorages, and where to go and stay in the islands.
Getting there (and getting on the water)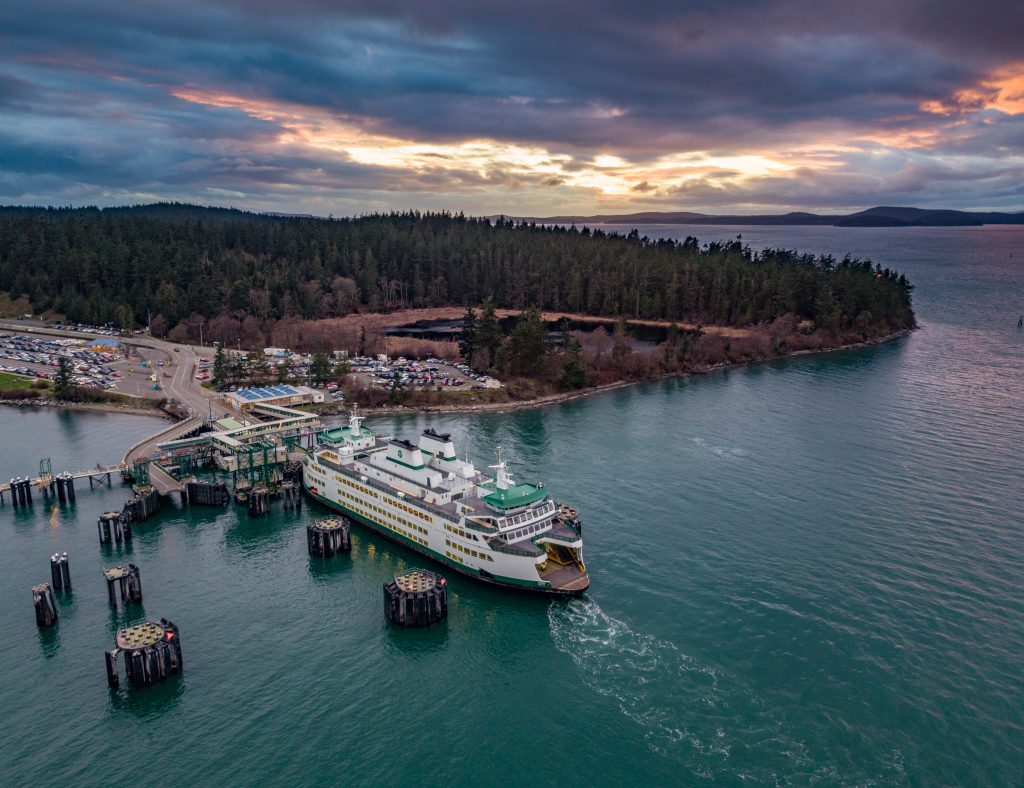 Coming to charter or catch a boat, you'll likely come into the Bellingham or Anacortes. You can get to both towns from the Seattle-Tacoma Airport (SEATAC) on the Airporter Shuttle.
On your own boat, Anacortes and Bellingham are both good spots to get supplies, parts, and work done on your boat if you need it. Anacortes is on Fidalgo Island, and right on the edge of the San Juan islands. You can anchor out there or find a spot in one of several marinas for access to chandleries, sail makers, repair services, grocery stores, and a lot of nice shops and restaurants all within a short walk of the downtown marinas. It's a destination in its own right.
Bellingham is larger, but takes you further from the islands. You'll find more there though, since it's a bigger town, though you may need to rent a car, rideshare, or taxi to some of the more spread out services.
Posted in Blog, Boat Care, Boating Tips, Cruising, Fishing, iNavX, Navigation, News, Reviews, Sailing, Sailing Tips