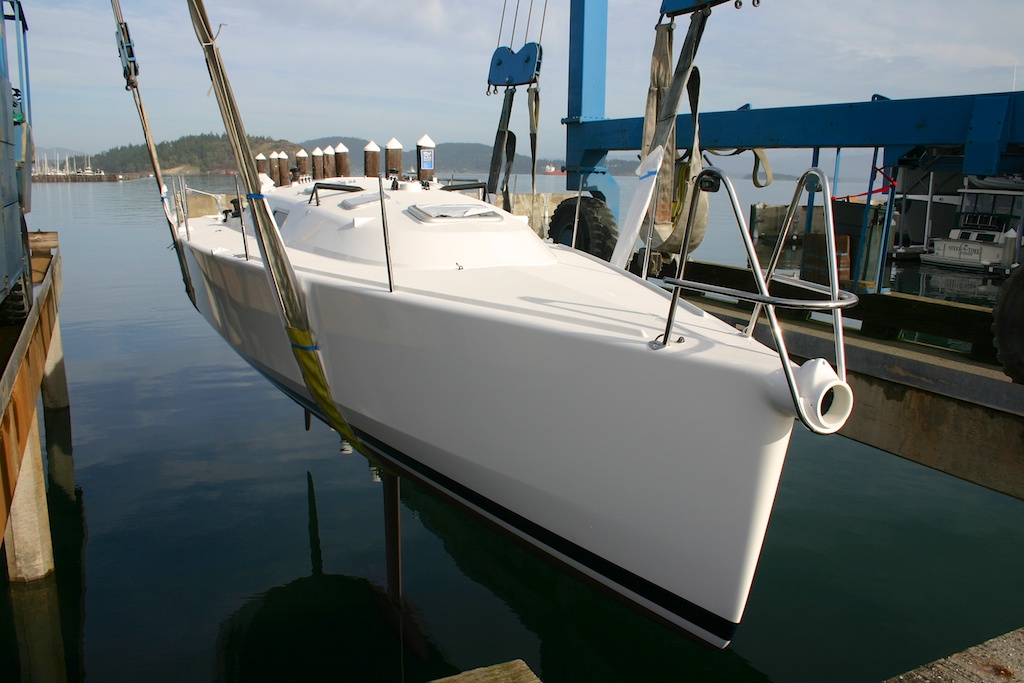 by B.J. Porter (Contributing Editor)
All of us have dreamed about finding the perfect boat that suits every sailing wish and desire. Fast around the buoys, but light and comfortable at anchor, with enough space and comfort for the family or another couple for a week without getting in everyone's way.
Of course, there are many production boats out there to choose from, used and new, and the vast majority of boat owners find something at boat shows, in advertisements, or from endless hours staring at Yachtworld and other listing sites.
But what if you could just make that custom boat that's tailored to suit you and no one else? It's a fun "what if I won the lottery" exercise, but many people get unique boats designed for their own wishes.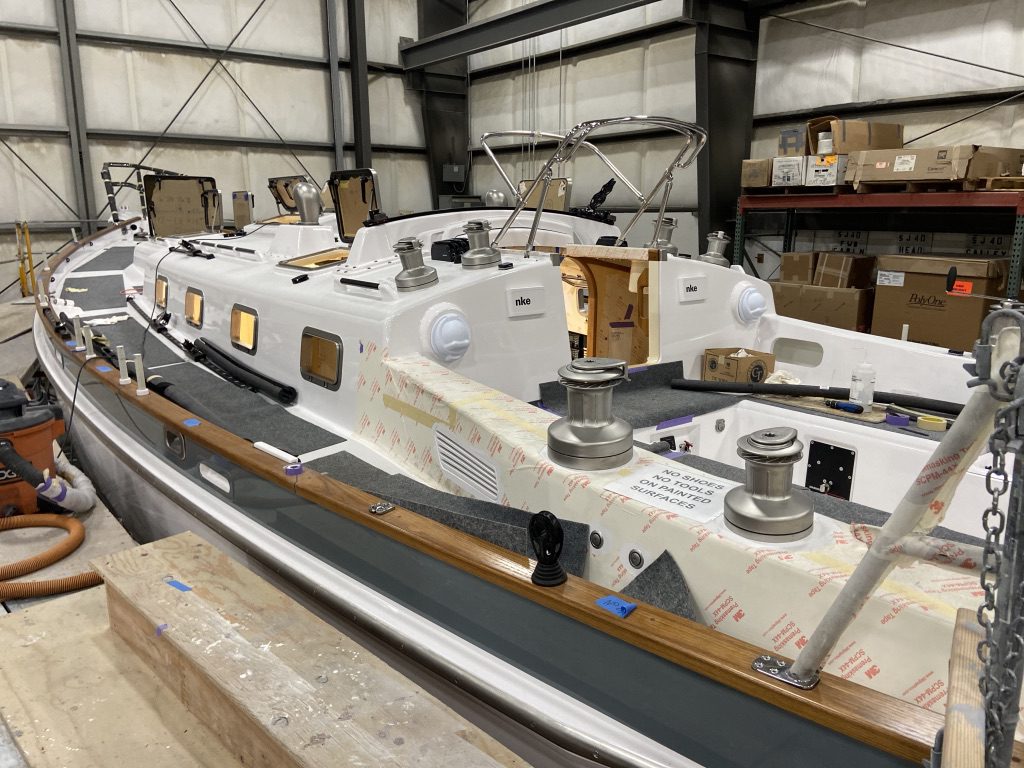 The journey to your boat.
In this multi-part series, we're taking you into the world of custom yacht design and building to give you a feel for what it's all about. While few can make this journey and commission a custom boat, everyone can dream and the story behind how a boat gets from a gleam in a sailor's eye to a real boat, floating on her lines in beauty and tearing up the racecourse, is fascinating. It's a load of work and requires an incredible amount of attention to detail and craftsmanship to create a unique boat.
To learn more about one way custom boats come about, we sat down with Jim Betts, founder and owner of James Betts Enterprises, known more casually in the industry as "Betts Boats." Jim has been building boats for over forty years, and his company portfolio boasts many spectacular projects and winning yachts.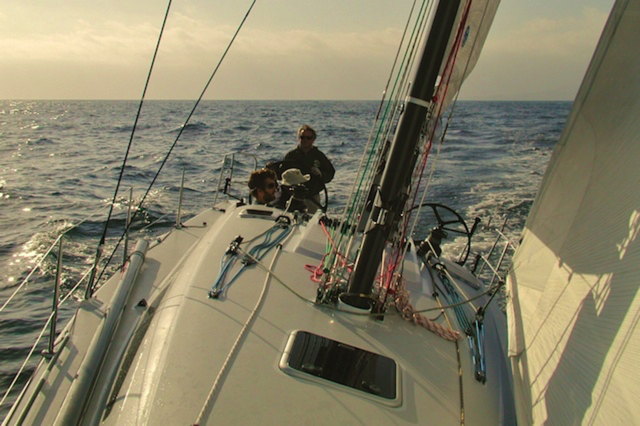 Located in Anacortes, WA, Betts Boats has built fifty-six custom boats since 1972, making everything from nimble racers to offshore performance cruisers and an America's Cup competitor. For the last two decades, they've focused on carbon fiber and epoxy composite boats, but they've built from aluminum, and have one current project in solid titanium!
Starting with a dream
"The first thing you have to do is figure out your dream," says Jim Betts. "What you want to do with the boat, and how you'll use it. What kind of aesthetic you want, and what materials you want for construction?"
Customers have walked into Betts' shop with little more than an idea for a boat, while others have complete designs in hand from a naval architect and are now shopping for a builder. There's no strict starting point for a custom boat project, though a builder like Betts will work with you to get from concept to design. Betts Boats has in-house design capabilities, but they mostly work with outside designers and their in-house department bridges the gap with a designer's concept and the practical reality of what they can build.
What's import is to have that idea, that kernel of a concept about what you need from a custom boat that you could not find in the production marketplace.
Reaching a design
"The design isn't always complete when we start the build," Betts says. "We may have a complete set of hull lines when we start to make tooling, but there may not be a finished deck or interior layout. We can start with the hull once that basic design is set, so we don't delay waiting for parts we can't build at the beginning."
A design is an interactive and iterative process, and every designer works a little differently. A potential customer walked into Jim's office and said, "I want you to build an old school looking boat with, but with carbon fiber structures and modern materials."
Jim knew a new design could take advantage of modern performance and construction advances, and the right designer could still capture the classic look the customer wanted.
"So I set up a meeting with Bob Perry (a well-known designer Betts has worked with before), and we talked to the client about what he wanted," Jim said. "Bob did some sketches and showed them to the client, and he loved it. Then the client said 'Let's go ahead with the project,' and Bob and I almost fell off our chairs."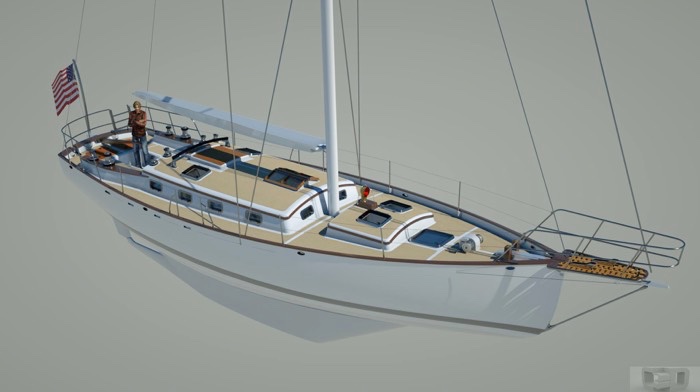 The result was the Bulletproof project: traditional designs built to the exacting standards, with every modern advantage of design and technology cloaked behind beautiful classic lines.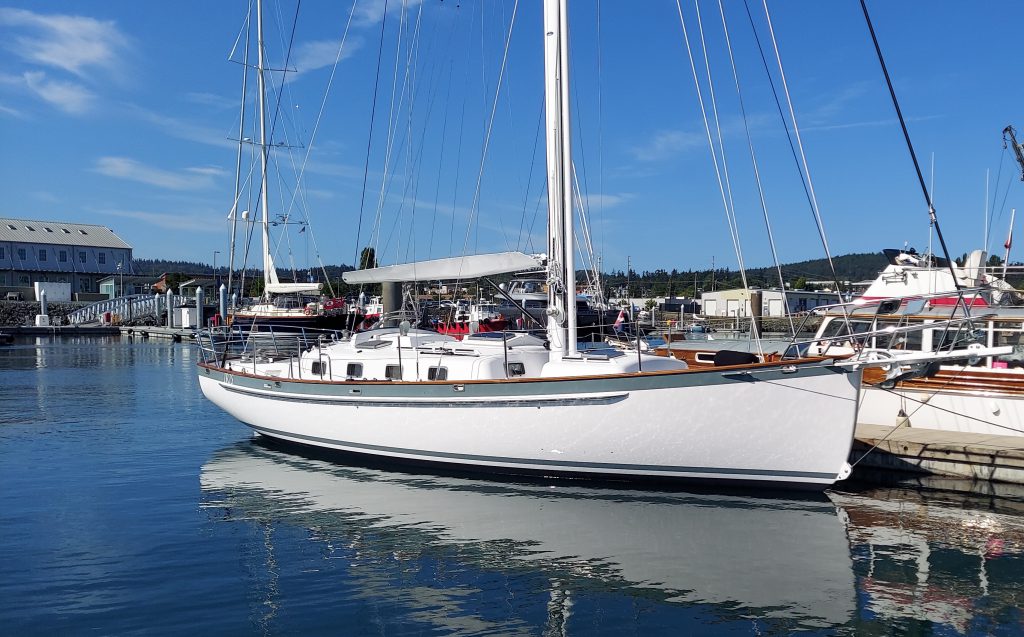 The $64,000 Question…
Building a custom boat is expensive, no doubt. Most boat owners find what they want with the production boats on the market, and for most people's budgets a used boat ticks enough boxes to keep us happy. But if you had the money, what could you do?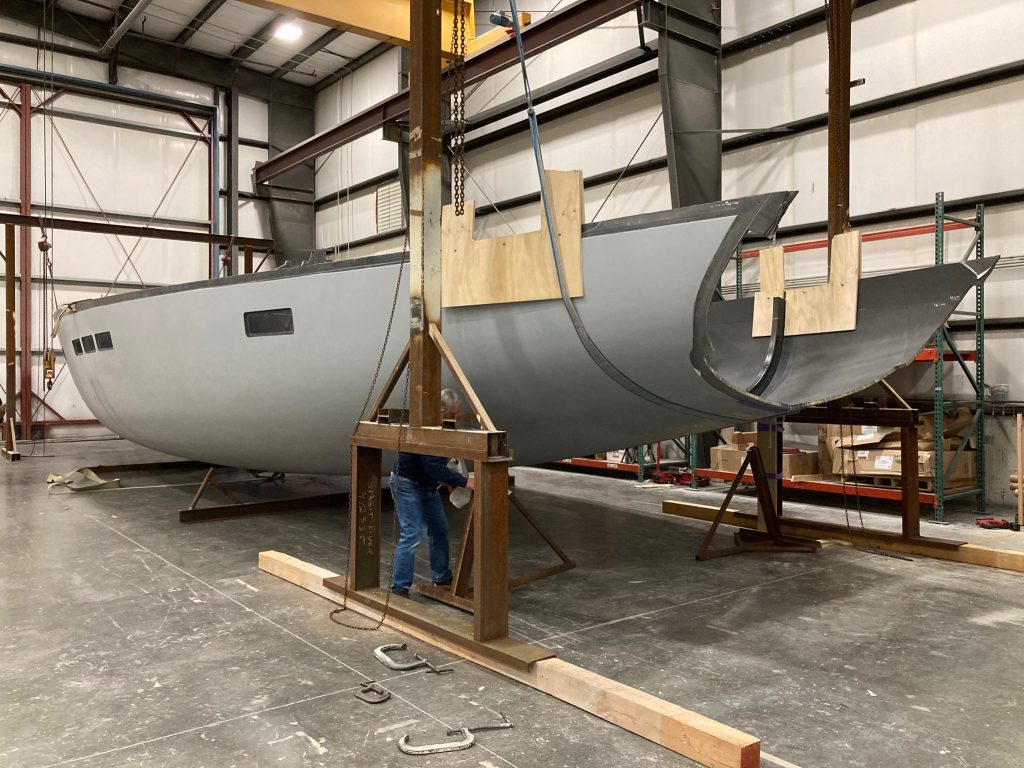 The bottom line is while it's expensive, it's not as crazy as you think for a modest sized custom boat. If you're looking at a new, higher end production boat that can be customized (within limits) like a Hallberg-Rassy or a Swan, you can also consider a custom boat if what you find in the production market doesn't suit you.
"It's about the choices you make in construction and features," Betts says. "If you go for a simple boat or a smaller boat without loads of complex features, you can do it for a manageable budget." Very complex boats add a lot of cost, as does size, but there is room for economy in keeping a design and specification simpler.
There are two types of contracts a company like Betts Boats works under – fixed price, or time and materials.
"Obviously, we prefer time and materials," Jim says. "We have more flexibility to make changes for the customer, and we're not boxed in by early decisions made to fit a fixed bid. It's a lot easier to build exactly what the customer wants if we can adapt and change without sticking to a tight bid."
But if that's too risky, fixed-price contracts do work and you will know your budget. But you can expect the up front design process to be more rigorous, the contracts and payment schedules more rigid, and changing the design during the build is more of a challenge. It's more suited to simpler boats with a complete design, because a builder can't bid on a project that isn't well specified.
In the end, the more idea you have of what you want built, the better you can estimate the cost.
Splashing a Boat Soon
We're going to jump ahead a little to the most exciting part of being a boat builder – launching a new build!
In the coming weeks, Betts Boats will launch the Wylie 60. This design includes several high-tech advances like electric propulsion and a swiveling, stayless mast. It's an ultra light displacement (ULDB) hull designed by the Thomas Wylie Design Group, and is sleek, narrow, and fast. They've been working on it for some time and are in the final stages of finishing.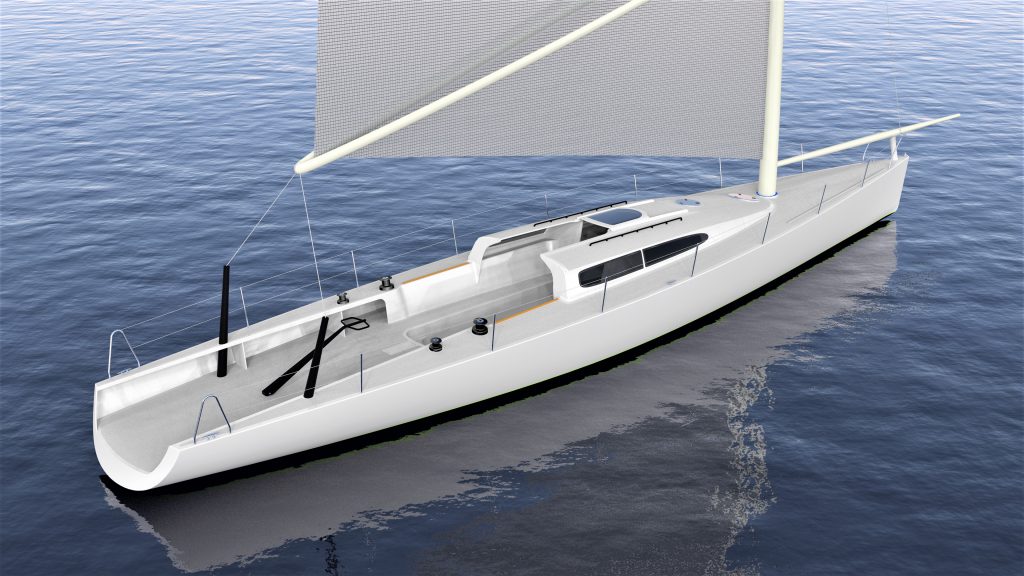 The design came from Wylie Design mostly finished, and Betts' in-house designer and engineers worked with the designers at Wylie to finish some systems as the build progressed. The retractable electric drive is one of several in-house innovations developed during the build.
Between the initial design concepts and the launch, thousands of hours of labor went into designing and building tooling, laying up carbon fiber, cutting and shaping parts, and a million other little details it takes to build a boat like this.
Check out the build page at Betts' Boats website for more details and pictures of the build.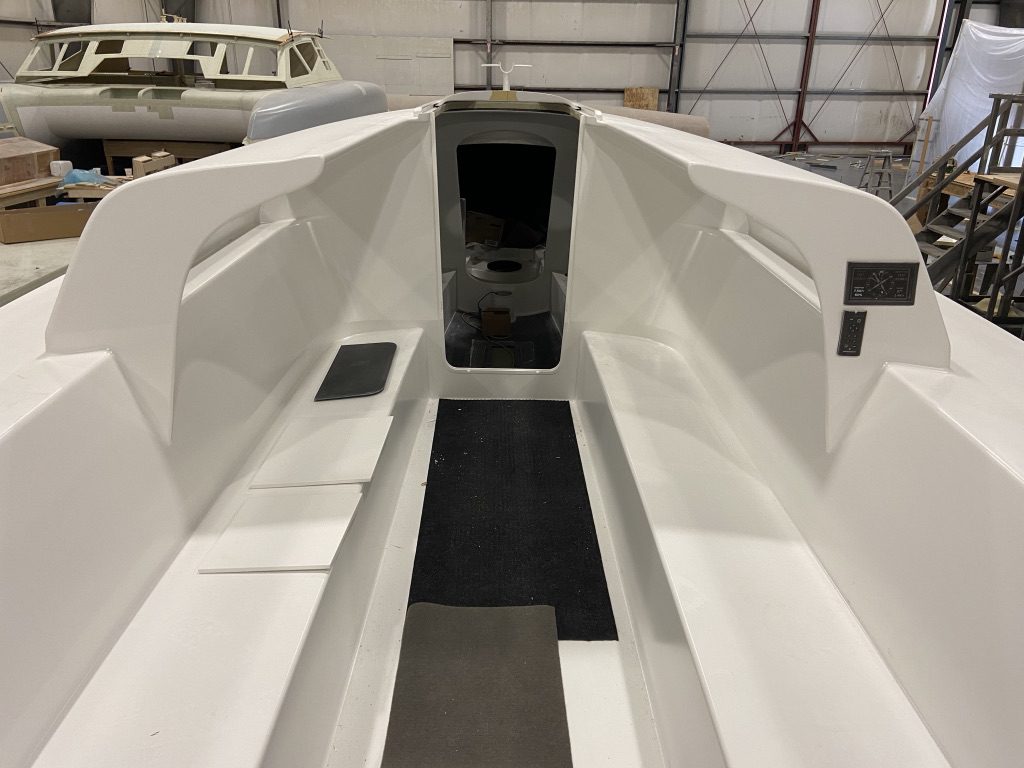 Stay tuned for more…
For the next monthly installment, we'll get into some of the nitty gritty about how a boat is actually built in a custom shop, and explain some of those pictures from the last section. You'll learn about "tooling," how they lay the hull up, and a bit about turning a theoretical design into a solid object that matches the designer's and client's vision.
It's a longish project to build a boat, with 18-24 months being a fairly typical build time, because there is a ton of exacting work to be done, with a lot of technical challenges to overcome, as every boat is just a little different.