by B.J. Porter (Contributing Editor)
When people in southern New England talk about the "Cape and Islands" they're referring to the southern shore of Cape Cod and its offshore islands – Nantucket, Martha's Vineyard, Cuttyhunk, and the rest of the Elizabeth Islands. Vineyard Sound and Nantucket Sound offer some fantastic cruising grounds, with some very nice offshore destinations within a reasonable sail from the cost of Cape Cod and even nearby Buzzard's Bay and Narragansett Bay.
Some of our favorite vacations were weeks spent bouncing among the islands, walking the beaches, visiting the towns and restaurants, fishing, cycling, and just enjoying the beauty. Some good cruising guides can give excellent detail on the destinations, but we'll touch on some of the high points.
Navigation
Tides and currents are the game navigating through Vineyard and Nantucket Sounds. If you time them well, you'll have a fast, peaceful trip. But a timing mistake can lead to a long, slow, and sloppy trip against current and wind. With five knot currents in some places, you don't want to sail against them the wrong way.
The Eldridge Tide and Pilot Book is the primary guide New England sailors use to pick their travel times for the best sailing. It gives you extensive tables and maps for tidal directions and shifts at various key points around the waters. Get a copy before you head out, and plan your departure and arrival times carefully, especially if you're planning to come through the Elizabeth Islands or around the north tip of Martha's Vineyard.
Fog and bad weather are a possibility, and these waters can be busy with lots of boat traffic at the peak of summer.
Island Destinations
Getting offshore in the summer is the big draw, and the islands do not disappoint. You'll find fantastic beaches, clear water, food options from carts to fine dining, and plenty to do for everyone on board. When the summer heats, the islands are the best way to beat the heat. Watch out for ferries to some of the larger islands. They move quickly, and the restaurants near the docks fill up even faster when they unload!
Cuttyhunk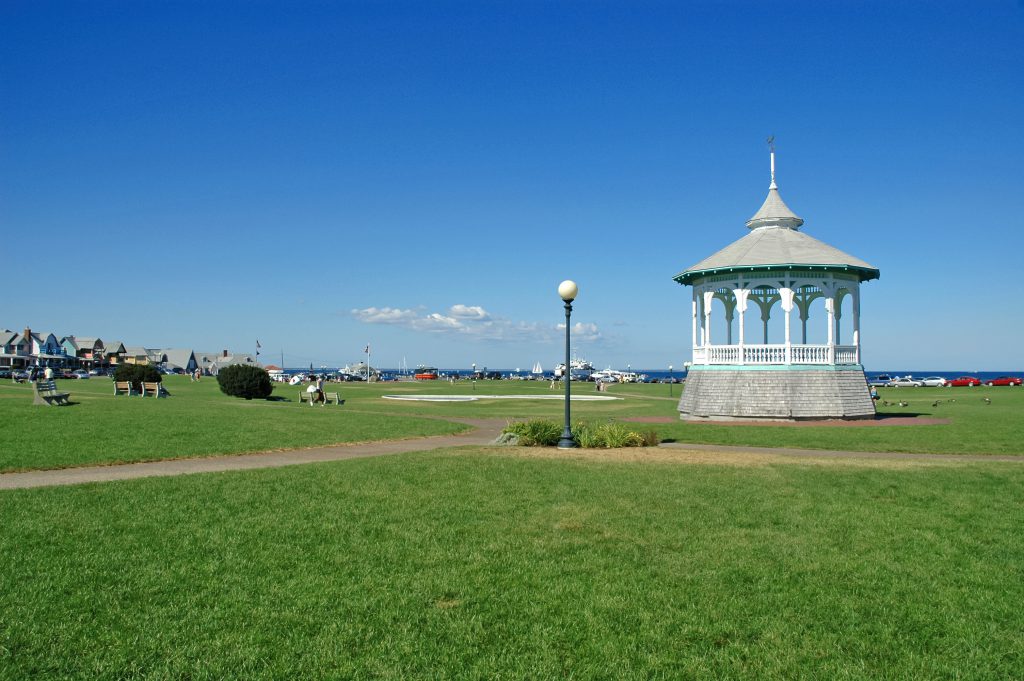 Small and quiet, Cuttyhunk (or "Cutty" as it's known affectionately) is more a spot for nature walks, fishing, and a quiet day on a small beach than shopping or dining. Because there is hardly any of the latter. Cutty only has a handful of year-round residents, but the summer population swells with renters and cottage owners. There are only a couple of businesses on shore – a tiny grocery, a pizza restaurant with outdoor only seating, an ice cream shop, the Shellfish Farm, a few food carts, and a lovely spot for breakfast at a B&B overlooking Vineyard Sound.
One highlight of Cuttyhunk is the mobile raw bar run by Cuttyhunk Shellfish farms. Call them on Channel 72 and they'll have plates of seafood to your boat so fresh their staff is shucking the oysters as their boat makes its way through the anchorage.
Moorings are available for rent inside the harbor and outside. All are on a first-come, first-served basis. The area outside the harbor past the mooring field is a good anchorage for all conditions, except northerly winds.
Elizabeth Islands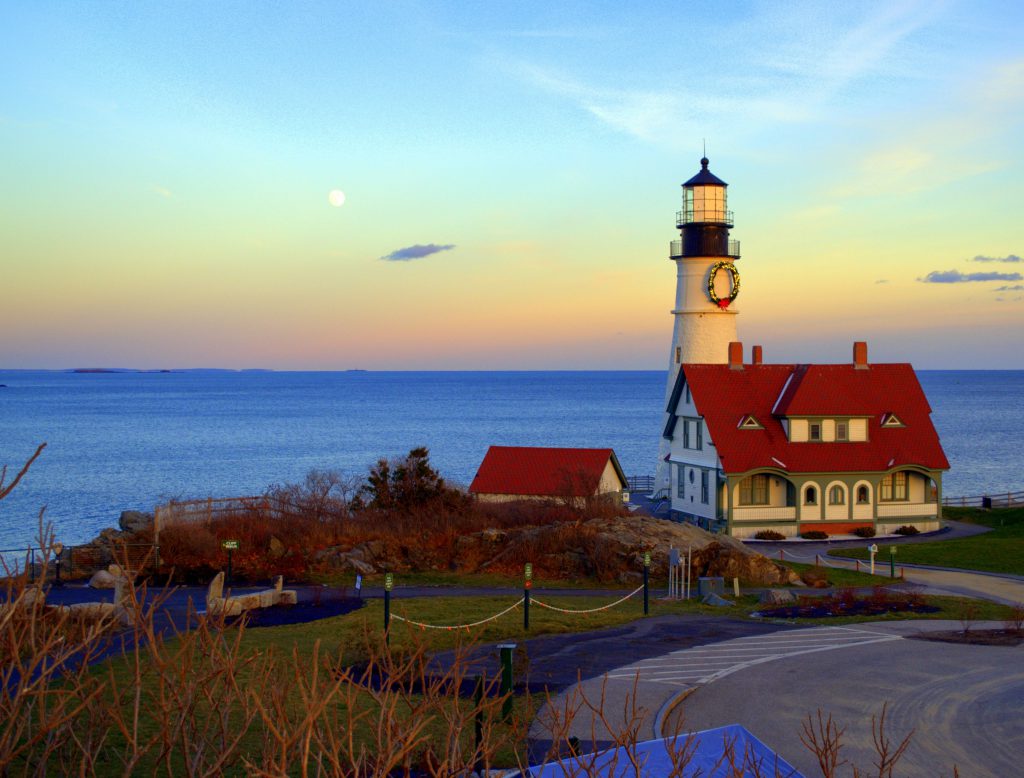 Most of the other islands in the Elizabeth Islands are privately owned, so they're pretty to look at, but you can't go ashore. There are a few nice anchorages like Hadley Harbor, where you can spend a pleasant night at a quiet anchor.
The gaps between the islands pose a navigational challenge for those coming from Cuttyhunk or Buzzard's Bay. There are four "holes" in the islands, three of which are safe for all boats but all require care and timing. Canapitsit Channel near Cuttyhunk is narrow and tricky, and mostly used by smaller power boats and shallower draft vessels – sailboats may want to avoid it. Further east Quick's Hole is the broadest, Robinson's Hole is shorter but narrower, but either is suitable for a sailboat. Wood's Hole is the longest with the most turns, current, rock ledges, and tricky navigation, but with the right tide it can be quick.
Martha's Vineyard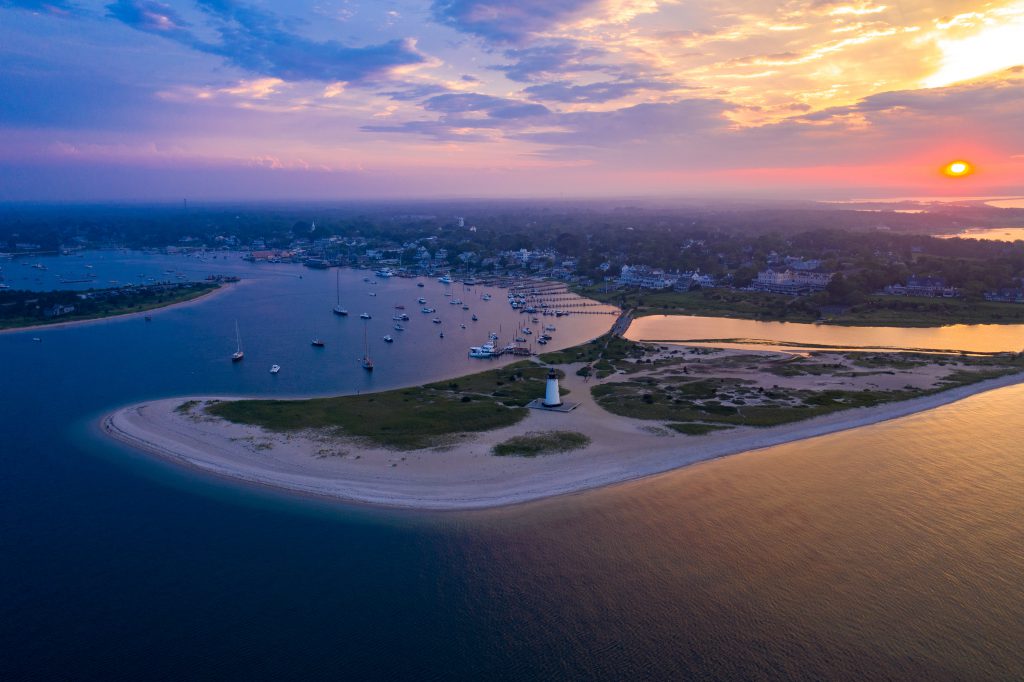 Martha's Vineyard is a larger and more populous island, with several large towns with anchorages, marinas and mooring available. Vineyard Haven, Oak Bluffs, and Edgartown are suitable for larger vessels with deeper drafts, though Oak Bluffs has a small mooring field of first-come moorings. Moorings in the other towns can be reserved, and there are a few first-come transient moorings.
Each town has a distinct flavor, and you can reach any town from the others on the MARTA bus system. You'll find great dining, shopping, ice cream, attractions, and sights and tours from any town. All sides of the island have great beaches, with big ocean waves on South Beach.
You can anchor near Menemsha in the Bight in southerlies, but you can't get into the pond easily, and shoal draft boats can get into Lake Tashmoo.
Nantucket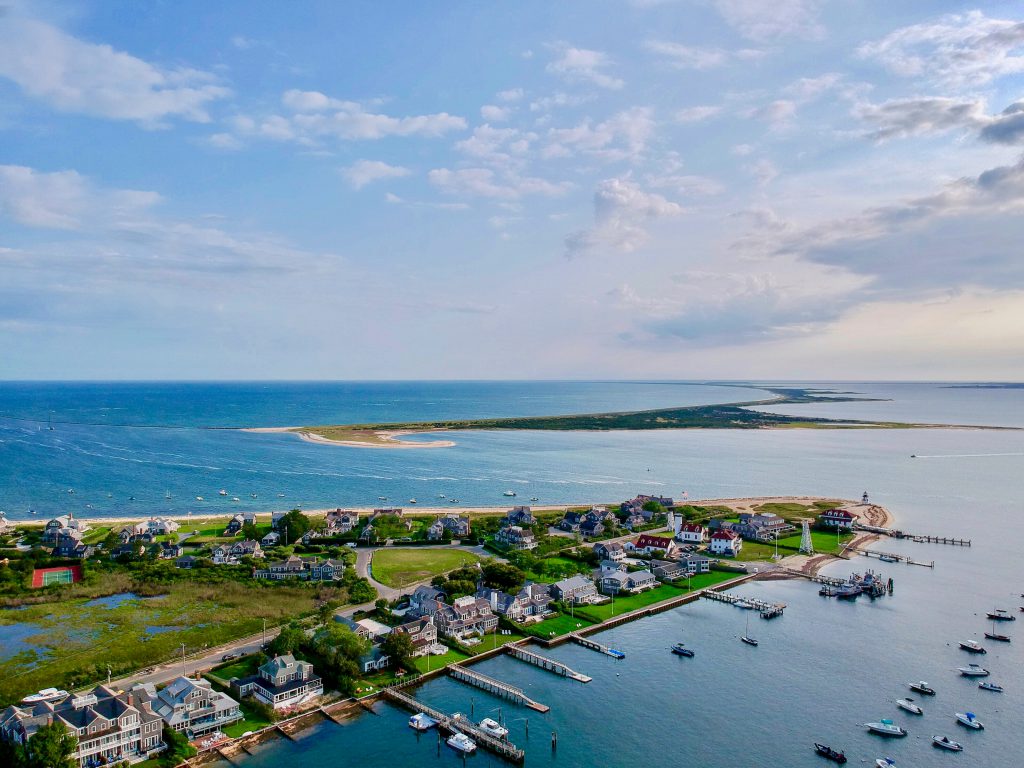 Nantucket is a quiet contrast to the Vineyard, but still has a bustle to the downtown on occasion. There's one major town on the single harbor, though there are villages scattered on the island. There are many moorings for rent, most by reservation, and marina facilities on shore. Anchoring outside the mooring fields is possible, but expect a long dinghy right to the down dock or call a water taxi.
Ashore, this old whaling port still has a feel from centuries back, with historic buildings, cobblestone streets, and a period look to all the lamps and décor. On a foggy night downtown, two hundred years could drop away and you'd never notice it as you walk down the sidewalk.
Downtown Nantucket also has great restaurants and shopping, and great beaches surround the island. It's flat for easy riding on rented bicycles, and buses take you from downtown out to some of the more remote beaches. One of our favorite things to do was rent a four-wheel-drive vehicle and drive over the sand to Great Point, a remote spot at the end of the island. The confluence of currents brings in good fishing, and you're almost guaranteed to see seals as you explore the dunes and beaches.
Coastal Cape Cod
The southern coast of Cape Cod has only a couple of bigger harbors, but they're popular stopping points along the way. Spots like Cotuit Bay can be lovely, but the channel is shallow and you need to take care of getting in.
Woods Hole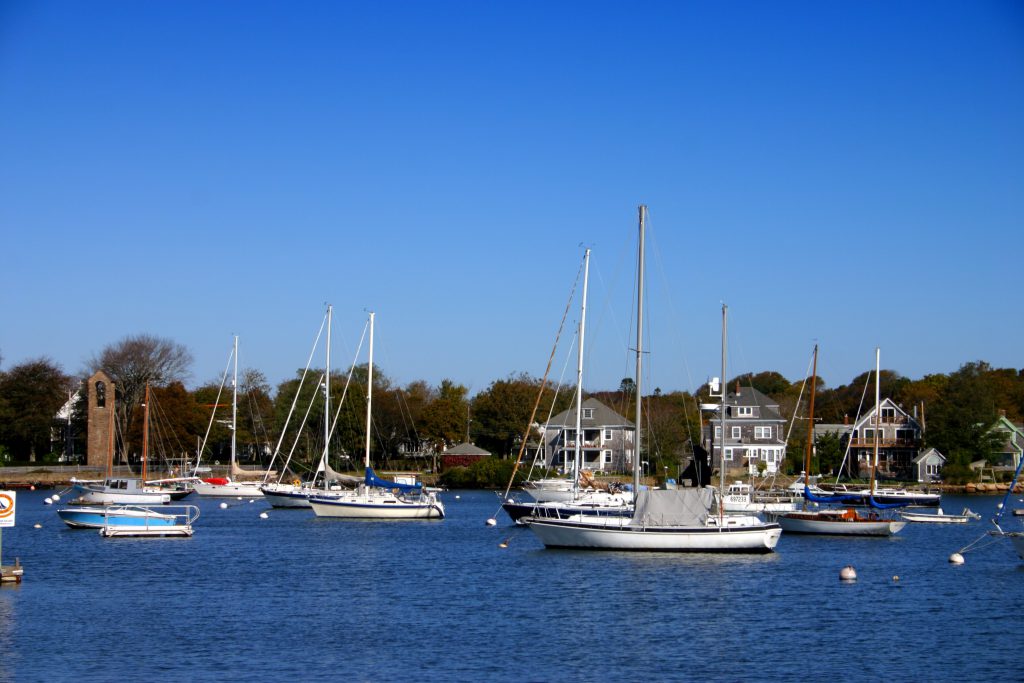 The town of Woods Hole looks over the pass through the islands, and is a quant New England town worth a visit. Water traffic is busy, since many ferries come and go for the islands and Woods Hole is a well-trafficked byway. Rental moorings and slips are available from several marinas and yacht clubs, so you can stop securely and come ashore. Some are outside town, or you can go around to Little Harbor, or through the bascule bridge into Eel Harbor.
Hyannis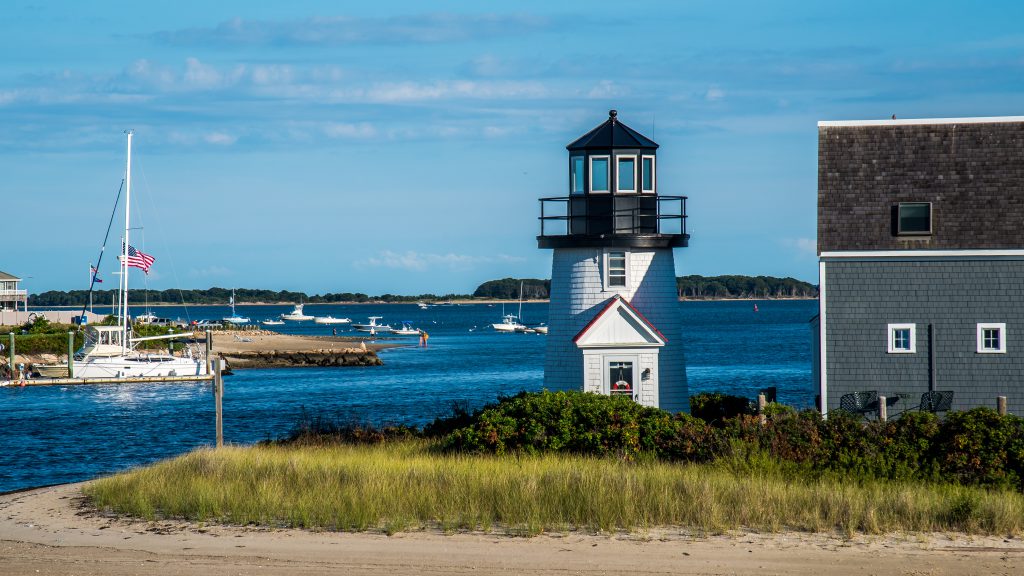 This well-known boating town hosts the start of the annual Figawi race out to Nantucket on Memorial Day weekend and is home to several good marinas and yacht clubs you can rent moorings or dock space in the outer or inner harbor. Anchoring is possible inside the breakwater and inside Lewis Bay.
Ashore, you'll find plenty to do. The harbor has several protected, clean beaches and the towns of Hyannis and West Yarmouth have plenty of good dining and shopping options. Hyannis is a good jumping off place to explore the islands, or a good stop on the way back.
Posted in Blog, Boat Care, Boating Tips, Cruising, Fishing, iNavX, iNavX: How To, Navigation, News, Reviews, Sailing, Sailing Tips