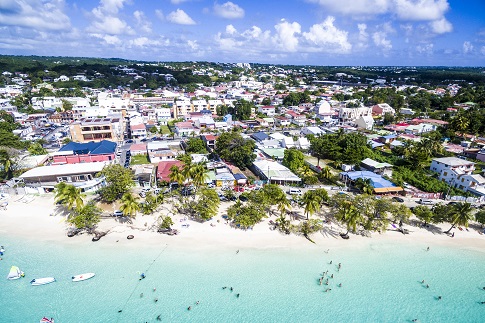 by B.J. Porter (Contributing Editor)
Originally, we were going to give you another "Boating Terminology 101" for this article. But it's November, and it's cold outside already, and the clocks are just about to fall back.
Outboard Anatomy can wait until next month. To quote the late, great Jimmy Buffett:
20 degrees and the hockey game's on
Nobody cares, they are way too far gone
Screamin', "Boat drinks"
Somethin' to keep them all warm
So we're going to Guadeloupe instead of talking about outboards.
Where and What is Guadeloupe?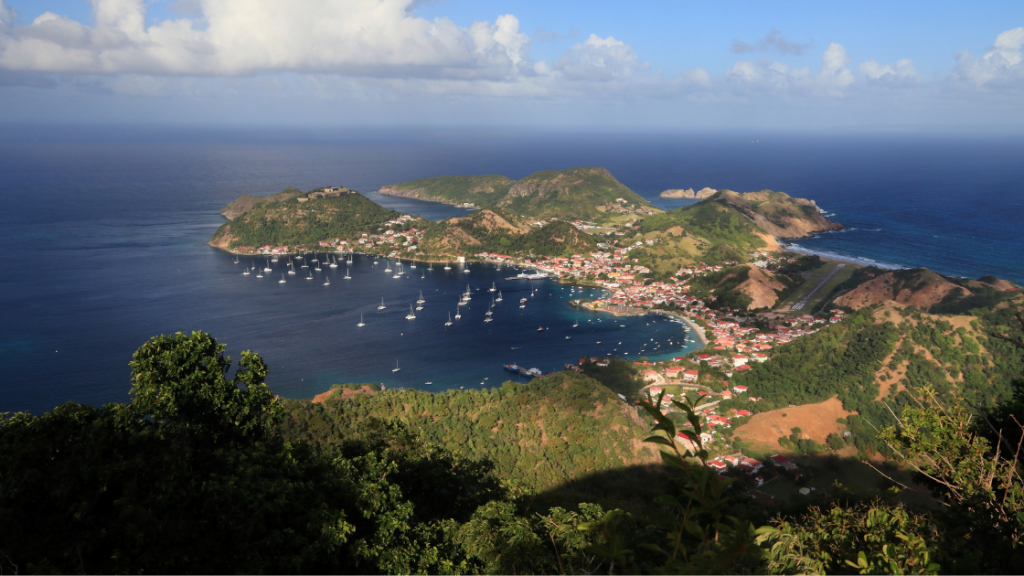 In the Leeward Islands in the Eastern Caribbean, Guadeloupe is an easy sail south from Antigua and north from Dominica. It's an Overseas Department of France, so when you clear in there you're clearing into a tiny corner of France. There are six inhabited islands, and several other small uninhabited islands, cays and rocky outcroppings.
It's an oft overlooked Caribbean destination, since it's a little out of the limelight of St. Martin, St. Barts, and other high-profile places to the north. Guadeloupe is less developed, but that's one of its appeals since over three quarters of its territory is a nature preserve. You can charter a boat there, but it's also easy to reach from other islands.
The primary language is French, though a Guadeloupean Creole (French-based), and an Antillean Creole (a blend of French, Carib, English and African languages) are also heard. If you don't speak any French at all, a phrase book would be helpful. You will find a few people who speak English, but it's not as common as more mainstream French islands.
Basse-Terre and Grande-Terre
The main islands, Basse-Terre and Grande-Terre, look like a single large butterfly from above. The Rivière Salée separates them, running between Jarry and Pointe-à-Pitre.
These islands have national parks, waterfalls, beautiful beaches, volcanos, amazing food, and plenty to keep you busy for weeks. The coastal town of Deshaies (French pronunciation: day-ay) in the northwest corner of Basse-Terre is a popular arrival port for yachts from the north. You can clear in to this fairly protected anchorage to start your exploration.
Further south, the Pigeon Islands off the coast is the home of the Cousteau Reserve, a stunning diving and snorkeling attraction.
Les Saintes
South of Basse-Terre, Les Saintes are a small cluster of beautiful populated islands popular with visiting sailors. There are plenty of places to anchor and explore by dinghy, and a small town to visit, and of course, many beaches.
Marie-Galante
The thirds largest island in the group, Marie-Galante, is a more quant yet delightful island you can visit. It's smaller than the main islands, with a different feel. There is still a working plantation on the island, but much of it is also in natural preserves.
La Désirade
This pristine island lies to the east of Grand-Terre and has a small population in two towns. It's home to several species of rare birds, and several species of sea turtles breed on the island. It has long coral reefs off its white sand beaches and is a quick trip from the uninhabited Petite-Terre natural reserve.
Culture, food and what else to know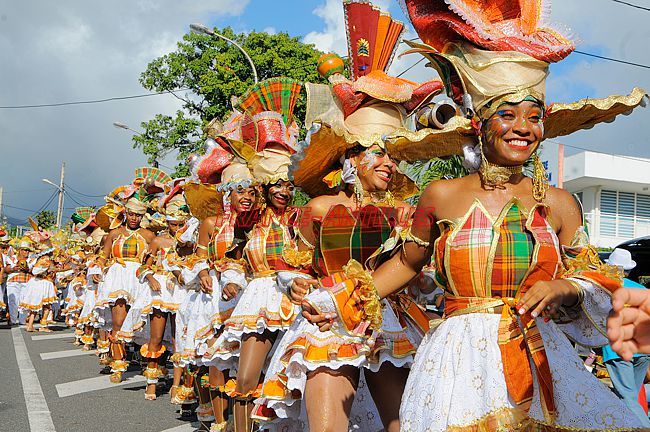 Guadeloupe's primary cultural influences are Caribbean, French, and African. As a French territory, the island has excellent support and is a relatively wealthy island compared to much of the Caribbean. The French influence extends through all aspects of island life, but there's a good standard of living that makes it an attractive and safe place to visit.
Carnival
Carnival is a big event in Guadeloupe, with events spanning January, February and into March. If you're planning to be there in those months, you won't want to miss this colorful, musical extravaganza. The main events are in the weeks in February prior to Lent, reaching the peak on Fat Tuesday (Mardi Gras).
Food
The food is fantastic, with a strong emphasis on fresh seafood. There's a blend of styles, with French and Creole influences creating a distinctive range of flavors. French bakeries with delicious croissants and chaussons aux pommes (French apple turnovers), along with small restaurants serving local specialties like conch and grilled lobster, can be found.
Drink (or "Mind the Ti' Punch")
Rum in the French islands is a little different. The rum most sailors know is made from molasses, a by-product of refining sugar. However, French island rum or "Rhum Agricole" differs as they make it from fresh pressed sugar cane juice. This results in a similar looking white or amber liquor, but with a very different flavor. Rhum Agricole has an earthier, more aromatic taste that can be more nuanced.
Rhum Agricole is a key component in Ti' Punch (the Ti' from Creole of petite, or "small"), the popular way to drink rhum in the French islands. The ingredients are rhum agricole, cane syrup, and the skin of a lime. A disc of lime is squeezed to drip the oils into the muddled rhum and syrup, then put in the drink. Ice is optional.
The service style is usually "Chacun prépare sa propre mort" or "each prepares their own death." Meaning in Guadeloupe, they usually bring the ingredients to the table as a bottle of rhum, syrup, and limes, and you mix the ratio of rhum to cane syrup that you prefer. Typical ratios of rhum to syrup to are from 2:1 to 5:1, depending on how much you like the bite of the rhum.
It's a tasty drink, and the cane syrup takes the edge off the rhum so you can really taste the flavors. But it can go to your head quickly!
Why would we want to go there?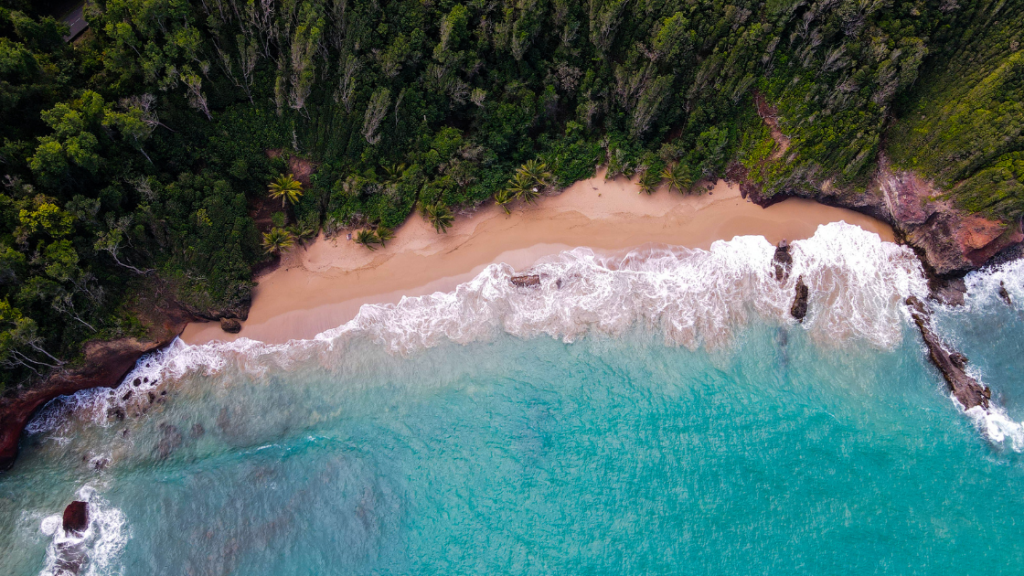 Why wouldn't you?
If you want unspoiled natural beauty, then Guadeloupe is an attractive place. Or if you like snorkeling, diving or good sailing. If you enjoy French Caribbean culture and excellent food, then you should also think about a visit to Guadeloupe.
Guadeloupe has a more out of the way feel than the commonly traveled areas of the Caribbean, and it doesn't the same traffic as the more well-known islands. But it still has everything from night life and fine dining to quiet anchorages away from light pollution and noise.
If you're thinking of flying some place warm for a week or two, then you can't go wrong. And for a bareboat charter, you can get on a boat in Pointe-à-Pitre and have a charter experience second to none.