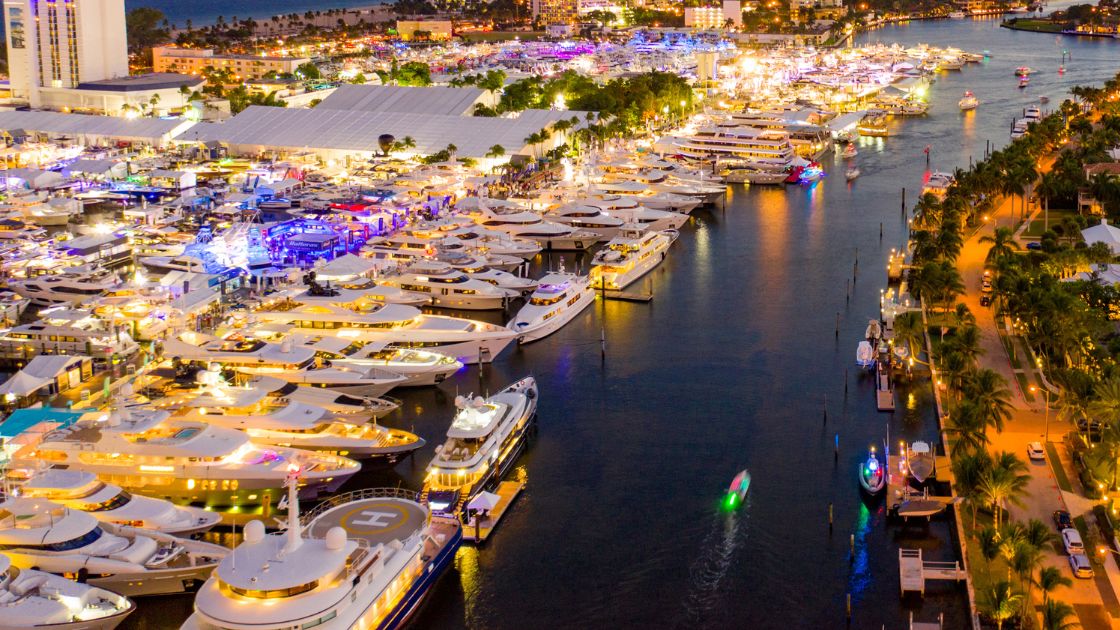 by B.J. Porter (Contributing Editor)
Boat shows are a blast, and you can see some of the newest tools and tech for boating, and all the latest new boats. Shows in the winter get you through the cold-weather doldrums, and shows closer to the season have in-water boat viewings and more events.
Shows vary from small regional shows up to massive events like the Annapolis and Miami shows, which run for a week or more and may have hundreds of vendors. There's a lot to see, and a lot to do. And it can be a little overwhelming and expensive if you're not prepared.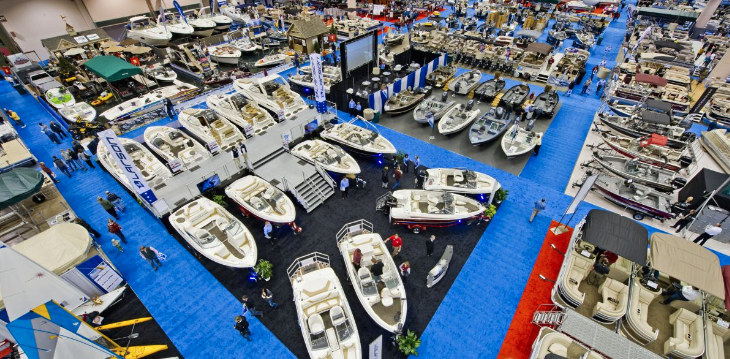 Planning your days
The first question to ask yourself is "why am I going to this show?"
Are you going to look for a new boat? Do you have a boat already, and you're just looking for specific upgrades? Is there something in particular you're trying to learn? Or are you just bored out of your mind in the middle of January and looking for anything that gives you a whiff of the ocean?
What you're looking to do affects what you plan to see. And a big sprawling show has so much to see that you can spend a lot of time wandering around aimlessly. Which is perfectly fine, by the way. For big shows, consider spending more than a day, especially if there are appealing seminars.
Shopping for a boat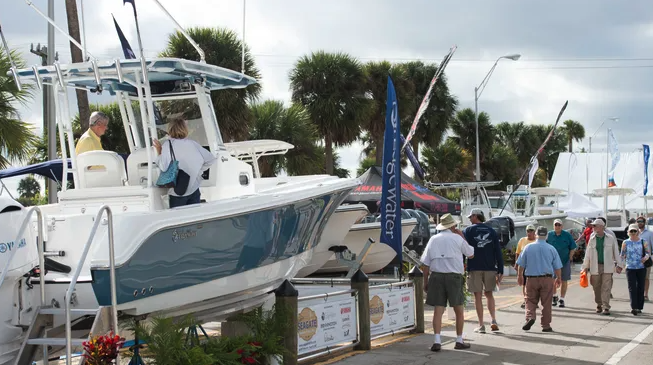 If you're shopping for a boat, make sure the type of boats you're looking for are going to be represented. An indoor boat show in January is a terrible place to look for 50+ foot bluewater cruisers, for example. Most of those indoor, cold-weather shows have more powerboats and smaller sailboats and coastal cruisers.
Get a copy of the show map off the web and circle the vendors whose boats you want to see. At big shows like Miami, you may need to take a shuttle from one area to another. It's free, but it takes time and you can save yourself a lot of work just by parking strategically.
Be prepared with questions and have specific things in mind you want to look at and ask about. This is a chance to talk to dealers and get solid information on boats, and get a real feel for what the space and layout is like. Beware though – a lot of dealers are selling boat payments, not purchase prices. You want to get to the heart of what the boat actually costs and what they include in that price before you sign anything!
Shopping for gear
Like shopping for a boat, you can target what you're looking for. Sometimes related products are grouped together, like electronics may mostly be in one or two tents. Some shows have the vendors more scattered and you may get lost finding everything you're there to see.
If you have a specific agenda, a list of vendors to visit coupled with a map with their booths circled on it will help you see everything you need.
Just looking around
Ah, you don't really need help. Show up with friends or family, walk around, take in the sights. I've hardly ever left a show empty-handed even when I wasn't looking for something. So watch out for that…
Boat Show Specials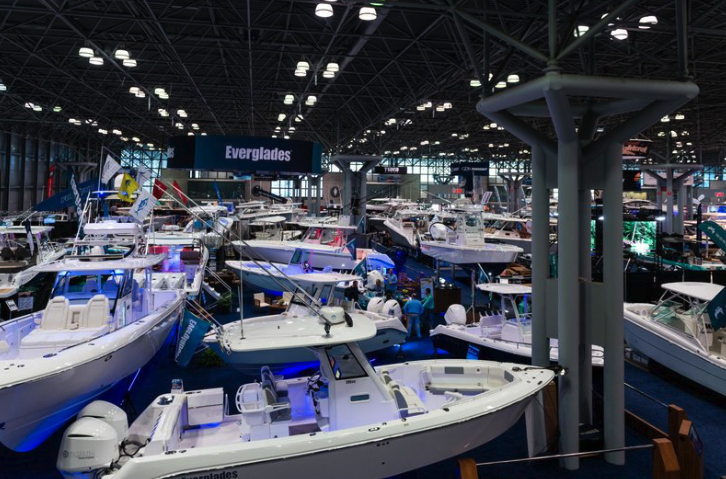 There are some great deals to be had at shows, and if there's something you need the odds are pretty good that you can get a discount. Most vendors know this, and have pricing set accordingly. The more you know going in, the better, because not everything called a "boat show special" is all that special. So do your homework.
Be careful about making large, unplanned purchases. If you're buying a boat, there's a lot to that decision. So don't let "today pricing only" push you into a deal you don't want. Many vendors will honor who prices for a little while after the show, if you act reasonably soon. Just don't get caught up in the moment, and let them know you're serious.
Education Opportunities
One overlooked aspect to boat shows are the seminars and talks. Many are free and included with the ticket, so check the program in advance. Famous speakers may give free talks on topics like maintenance, cruising, racing, or fishing at big shows. Most of the free talks don't require reservations, but check the program and show up early for good seats.
There may also be worthwhile paid seminars and classes. It's a way to get some training in a day or two while you're enjoying the show. They usually book these in advance, and may fill up fast. There are a lot of topics you can hit in a half, full, or two-day seminar at a big show.
A lot of vendors also have their best people at the big shows. You might chat with the boat designer, sailmaker, or global traveler representing the brand. They're there to talk to you, the sales prospect, so don't be shy.
Saving a few dollars
A boat show can be an expensive day. Costs can include:
Show entry.
Parking.
Hotel stays.
Food during the day.
Food outside the show.
Travel to the show.
But there are ways to save some money, with a little thought in advance.
Show entry – many vendors have complimentary tickets for good sale prospects. If you're planning a big ticket purchase like a boat, sails, electronics upgrade, etc. the vendors in your area may get you into the show for a day or more. But they need to know you're going, and in fairness to them, they may get charged for these tickets. Don't waste the ticket and only ask if you're serious.
Also, multi-day show passes are usually cheaper than buying one day at a time. If you're planning to go more than one day, order the multi-day pass up front.
Parking There's usually remote parking with a shuttle, and this may be the cheapest option. You can often save booking parking when you order your tickets. But if you just show up and try to park close to the show, odds are every local garage will have "Event Parking" pricing. And that isn't a discount rate!
Food during the show can be pricey. Well-run shows often feature food from local restaurants, but food prices inside the show can sting a little. Bringing a bag lunch isn't practical, but there may be restaurants near the show that cost little more than food inside. It takes more time, but you'll also get a quieter rest break.
Travel/Hotels – The closer you stay to the show, the more you will pay. In a town like Annapolis during show weeks, availability is low and pricing is high. If you can stay away from town and don't mind a drive in, you can usually find a cheaper place to sleep. Or a nicer one for the same money.
Most of all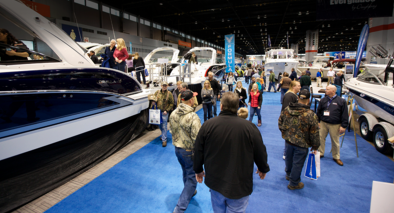 Have fun. If you plan a full day, it may exhaust you at the end with all the walking, talking, and looking. But it's a good tired, because you've seen some cool stuff and maybe gotten a couple of sweet deals for next season.
Comments are closed.