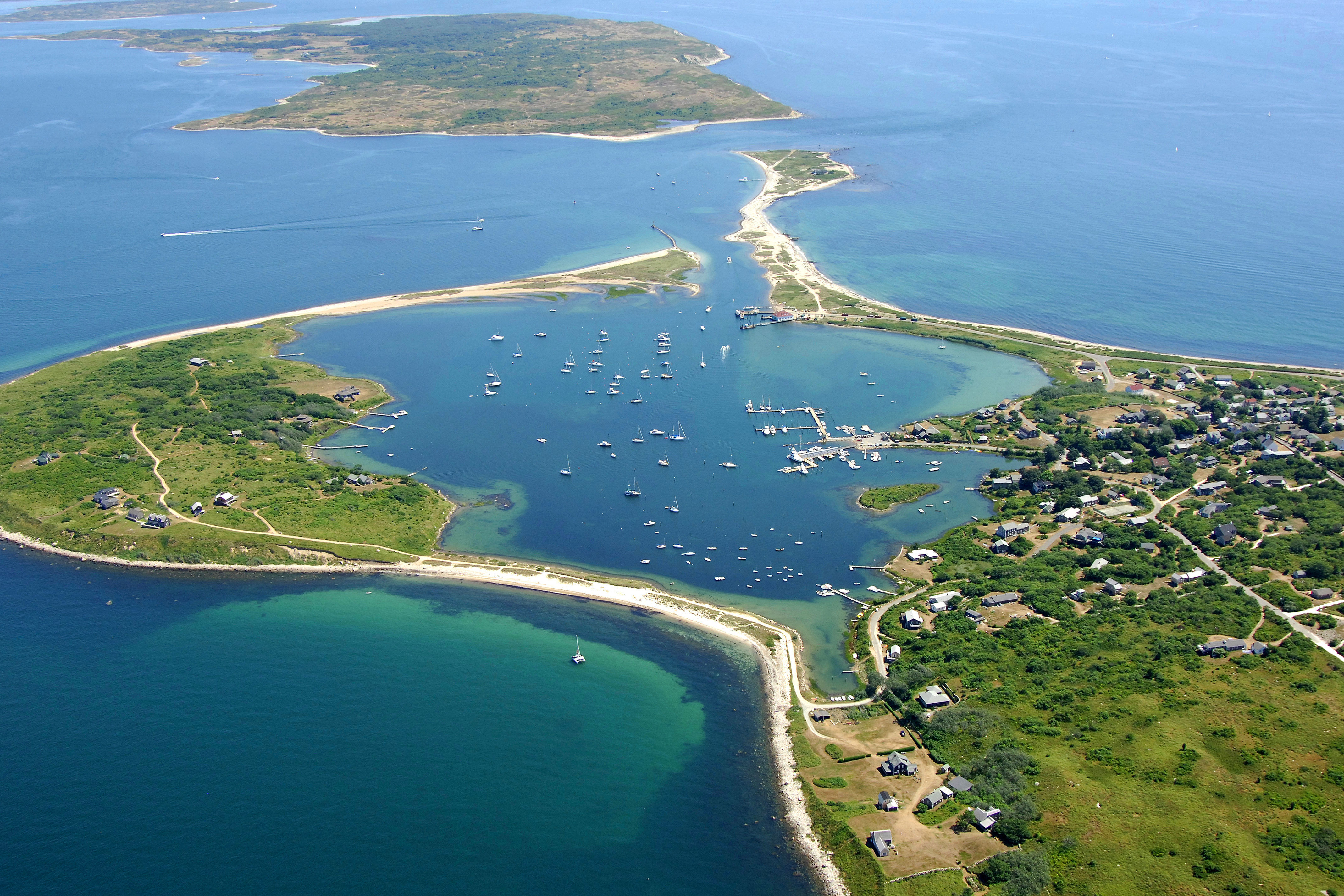 by B.J. Porter (Contributing Editor)
On the western end of the Elizabeth Islands near Cape Cod, about twelve miles south of New Bedford, MA, Cuttyhunk is a beautiful island known for good fishing, natural beauty, fantastic dockside seafood, and a tranquil setting to just kick back and relax. As you will see, Cuttyhunk isn't a place you go for the swinging nightlife.
Small island with a history
Cuttyhunk (or "Cutty" to the familiar) is small – less than a square mile in total area. It's a mile and a half long and three-quarters of a mile wide, with a protected harbor. The harbor is natural, but dredging and jetties built just before the second world war make it safer and more useful.
Bartholomew Gosnold first landed on Cuttyhunk in 1602 and spent three weeks on the island in June with his crew. So Cuttyhunk had its first summer visitors before anyone had established a successful colony in North America. That's a pattern that has established itself since – Cuttyhunk is nearly empty in the winter, with a handful of hardy year-round residents. But in the summer, the population swells from less than a dozen to over 400, with many short-term visitors coming by boat.
The island was privately owned, like most of the other Elizabeth Islands still are, until just before the Civil War. A group of related families lived on the island, and many stayed after the town of Gosnold was incorporated in 1864. The town seat is on Cuttyhunk, and it encompasses all the Elizabeth islands, and has a population of seventy.
The Cuttyhunk Club – a men's fishing club – formed shortly after the town's incorporation, and the island became a popular destination for recreational fishing. Over the next century, the island hosted light houses, a rescue station, pilot boats, and a lobster fishing industry.
In the 1950s, Cuttyhunk was "discovered" by recreational boats, locals formed a yacht club, more houses spring up, and power reached most of the island. The Cuttyhunk Historical Society publishes a detailed timeline of the island's history and its growth and change over the decades. Today, there's a small marina, a commercial wharf, town moorings in the boat basin, and moorings outside of the harbor for rent.
Getting there is half the fun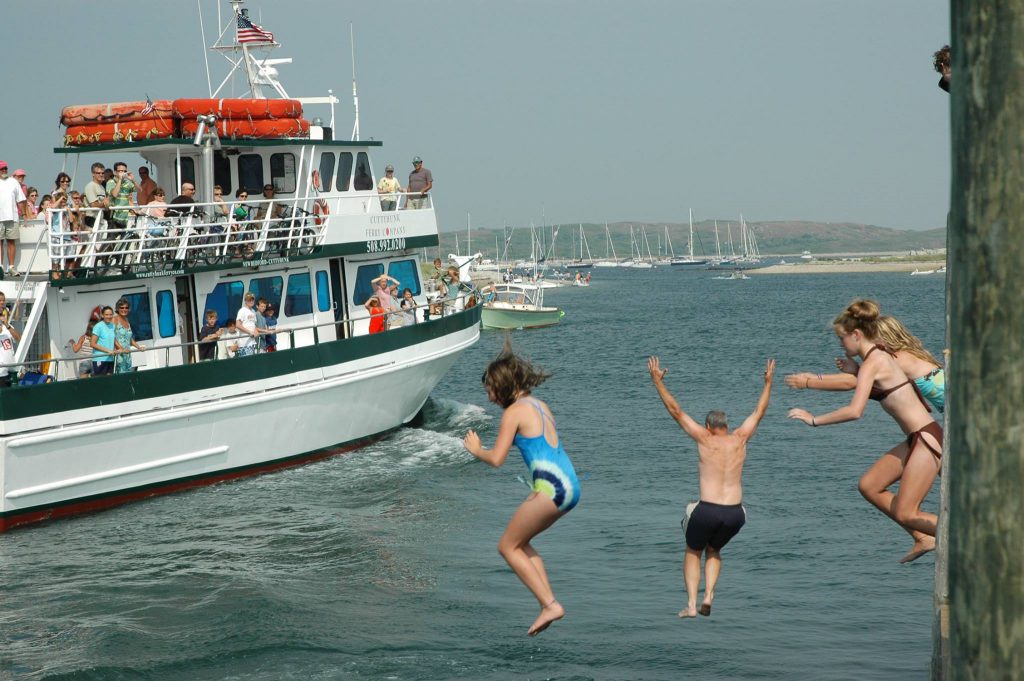 Cuttyhunk is close enough to the mainland for an easy weekend, but far enough away to make getting there a little effort. Sailing out of Buzzard's Bay, you can sometimes see it on a good day and it's a nice day sail with the right breeze.
Leaving Newport and Narragansett Bay, you need a little more time. But the prevailing south-westerlies mean you often have a delightful sail across Rhode Island Sound and the mouth of Buzzard's Bay.
Cutty is a popular stop-off on the way to Martha's Vineyard and Nantucket. Boats in transit may pick up a mooring for a night or two before working their way down to one of the "holes" between the Elizabeth islands to get into Vineyard sound.
There is a ferry out to the island if you're meeting people there, but it doesn't run that often. Three times a day on Fridays at the peak of the summer, and once or twice a day other days in the peak season.
Things to do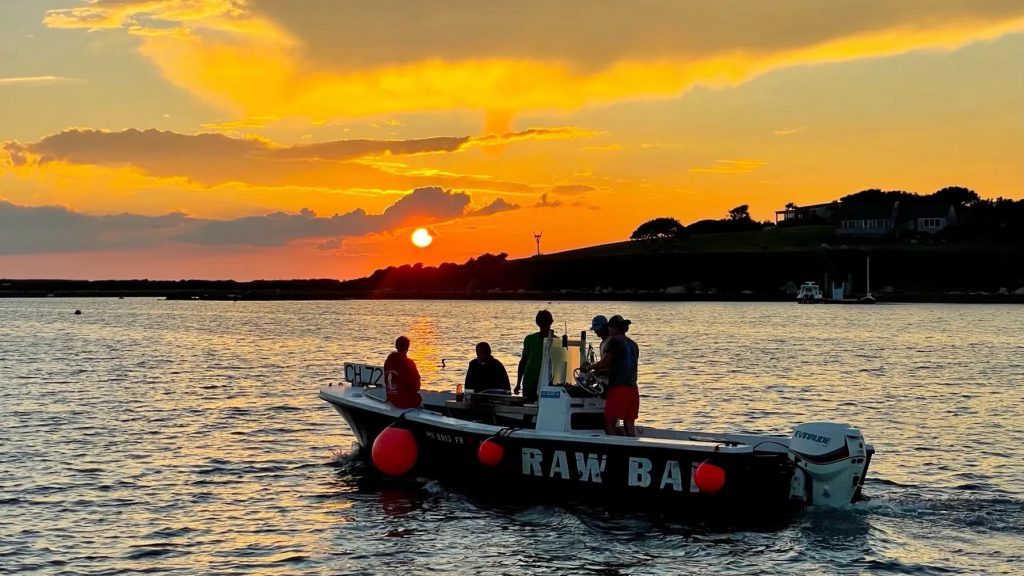 If it's not clear already, there are not very many businesses, services or activities on Cuttyhunk. Top activities on land include:
Hiking and walking all over the island.
Visiting one of the three beaches.
Having dinner at the Soprano's pizzeria, the only evening restaurant. Don't plan to stay late or leave hungry.
Walking to the Cuttyhunk Fishing Club for breakfast. The view of Gay Head on Martha's Vineyard is absolutely breathtaking while you sit outside to eat.
Going for ice cream on the town dock.
Stopping at the food cart near the dinghy dock. For the last few years, it's been tacos!
Fishing.
Shopping in the corner store.
Looking in the tiny grocery for snacks or something you left home without.
Movie night at the church
Occasional organized events, like clambakes, lobster boils, and so on.
Did I mention hiking and walking? Most vehicles on the island are privately owned golf carts, there are very few cars or trucks. But everything is close, so you can walk everywhere. A walk to the highest points on the island gives you a stunning panorama of Buzzard's Bay, Vineyard Sound, Martha's Vineyard and the Elizabeth Islands.
On the water, the area is known for fishing, and a few charter boats and guides operate out of the marina. You can also fish from your boat or cast from shore in a few spots. It's also a popular place to base multi-day fishing trips for mainland parties.
One of the most popular activities for visiting boats is calling the Cuttyhunk Raw Bar around dinner and cocktail hour. Cuttyhunk Shellfish Farms operates a raw bar on the town dock, but you can call them on VHF Channel 72 and they'll stop by your boat with fresh shellfish and seafood. You can see the summer kids shucking your order as the boat zips across the water to you; it's that fresh.
Where to stay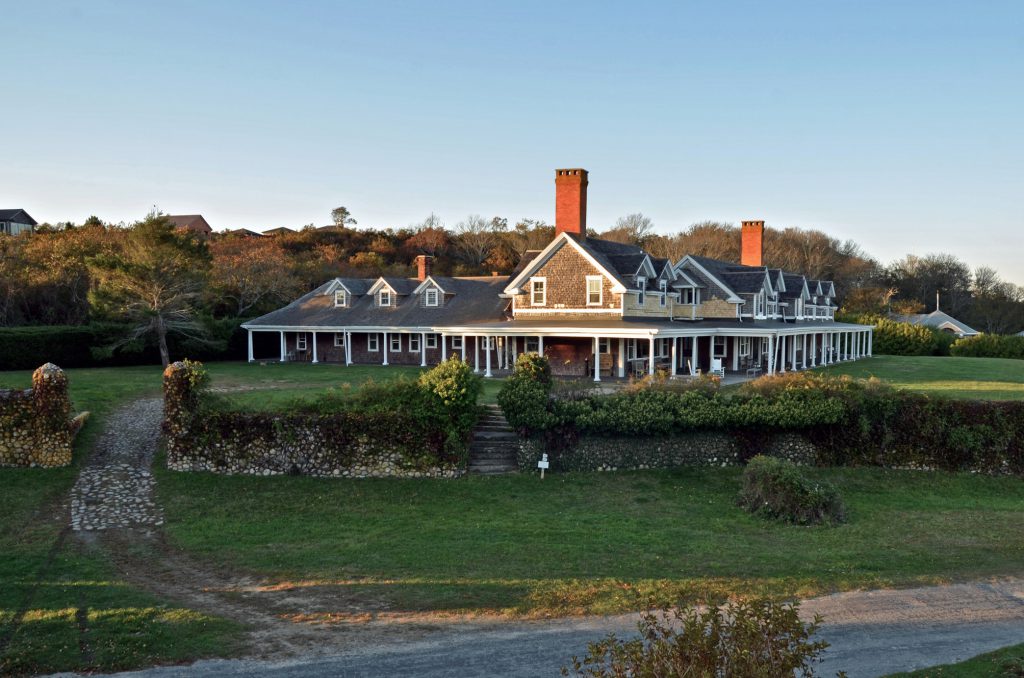 The "pond" has town moorings for rent on a first-come, first-served basis. There's a size limit in the pond (fifty feet), and deep draft boats may have a little trouble in the far corners of the mooring field. The pond fills up fast on weekends, so get there early or arrive mid-week before the weekend rush if you're coming for a few days. It also empties fast on Sunday mornings.
Outside the pond in the harbor are additional moorings available for rent. These are also first-come, first-served. The harbor outside is a very comfortable place to anchor if you can't get (or don't want) a mooring, unless a northerly comes through. It can get quite choppy with all the fetch across from the mainland, so check the forecast.
Slow down, relax, and catch your breath
"Island time" is embodied in Cuttyhunk. There's little rush for anything, because there's not that much going on. If you're looking for nightlife and bustle, just plan one night there on your way to busier places like Martha's Vineyard or Nantucket. Cuttyhunk isn't for everyone, and it makes no excuses for it.
But if you want a quiet place to truly relax and get away from it all, come to Cuttyhunk and take a walk around. Or sit on your boat, watching the birds with a drink in your hand while you wait for the raw bar boat to pull up. And be sure to check out the stars, there's not a lot of light pollution out there!
Posted in Blog, Boating Tips, Cruising, Fishing, iNavX, Navigation, News, Reviews, Sailing
Tags: cape cod, Cutty, cuttyhunk, MA, summer destinations