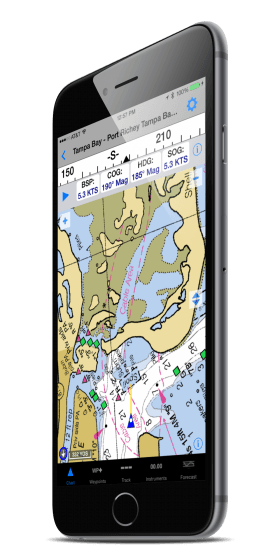 The power of a color chartplotter for a fraction of the cost.
ONE MOBILE APP with hundreds of features and access to thousands of charts.
Real-time Navigation on Marine Charts – positioning, velocity vectors, tracks history and waypoints.
Waypoint Selection, Creation and Editing – Navigate to any Waypoint. Import and export Waypoints. Popular GPX and KML (Google Earth) support.
Real-time Instruments – Speed, course, bearing to
Waypoint, distance to Waypoint, time to Waypoint, and compass card to
indicates course and direction to turn. Supports NMEA data.
Marine Chart Selection – Charts can be displayed based on position, or by search criteria such as name or chart number.
Route Editing – Comprehensive Route creation and navigation. Add, delete and insert Waypoints. See total or leg segment distance and bearing.
Track – A Track log history is maintained and
plotted on the Chart. The Track history can be exported for display in
Google Earth and other charting or mapping software.
Anchor Alarm – Be notified with both audio and a visual alert if anchor drags more than selected distance.
Marina and Navaid Search – Find the place or buoy or other Navaid quickly and see it right on the Chart.
AIS Targets Plotted on Chart – Quickly see and track near by traffic by integrating an AIS receiver or transponder.
Weather and Forecast Integration – Overlay real-time weather, and choose the date and time of the forecast to see it plotted on the Chart.
Forecast Plot (Wind and Pressure) – See wind speed, pressure, temperature, or precipitation forecast plotted on the chart.
Marine Chart Info – show chart detail and easily update, delete, email or print your charts.
TCP/IP NMEA – Configure NMEA data input (both
0183 and 2000) via WiFi. A PC or Mac or Multiplexer can broadcast NMEA data that is received via WiFi. (iOS ONLY)
CONTACT