CHS: RM-CEN01 Montreal to Quebec – Richelieu River
Coverage includes but is not limited to:
Covers the St. Lawrence River from west of Montreal to Quebec City including Trois Rivieres, the Richelieu River and navigable harbours.
Covers Canadian side of Lake Huron from Sarnia to Sault Ste. Marie including all of the North Channel and navigable harbours.
Contains Raster Navigation Charts (RNC) in BSB v4.0 format of the following paper charts:
1310, 1311, 1312, 1313, 1314, 1315, 1316, 1317, 1350, 1351, 1360, 1429, 1430, 1431, 1509, and 1510.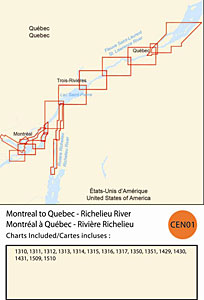 CONTACT